News
'VHF/UHF DX Book' available as an e-publication
One of the major works on VHF and UHF DXing from the 1990's heyday of V/UHF Dxing has been produced as a e-book, available for free download.   Whilst the equipment designs are mostly now out of date, due to component availability and changes in technology, the background material and detail is still relevant today.
Edited by Ian White, GM3SEK, a team of authors (including myself, and G4DDK) with experience in their specific areas contributed to this work, which went to a second edition before going out of print.  A digital reproduction of that second edition is now available as a free download from http://www.trpub.net/html/dx_book.htm by kind permission of TR Publishing.
Shipping Increases
As noted on the home page, from 1 Feb 2017 hupRF will only use Tracked or Signed For services for all deliveries outside the UK, due to the decreasing reliability of postal services.  In the first 7 years of operation, no packages were ever lost.  In the last 2 years that has changed and the number of customers having to wait for second postings is increasing.
As an example of the impact, for the most common item – the PAT board and its cable kits, which are typically sent as 'Large Letter' post – the UK Royal Mail charges £2.45 to Europe, £3.15 to the rest of the world except Oceania which is £3.30 – these are untracked services.
The equivalent tracked services are currently £7.75 to Europe, £8.35 to the rest of the world and £8.55 to Oceania.
Please note that these are just the postal charges, and do not include the materials and other costs incurred in shipping.
Get your PAT 'dealer installed' – in the UK!
Martin Lynch & Sons Service Dept will now supply and install a PAT board in your favourite rig for you.  They'll also fit one into any new rig you purchase from them – without invalidating the warranty; that's got to be a great deal! Contact ML&S and ask for Gary or Steve.
hupRF at Heelweg Microwave Event, Sat 14th Jan 2017
Thanks to our hosts at Heelweg for an excellent and enjoyable day in the newly re-furbished Cafe Vos.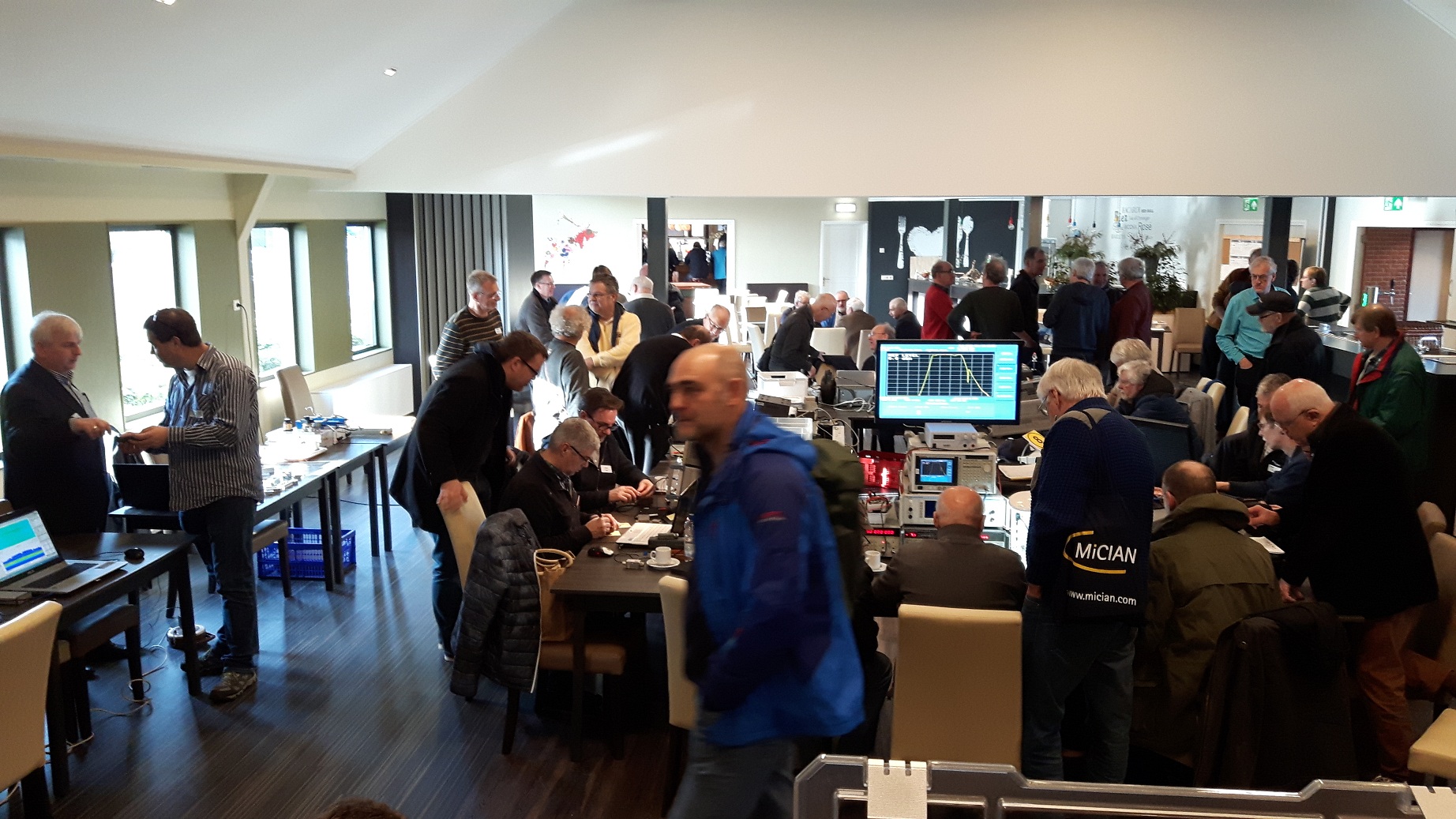 Price Increases
Regrettably, due to the current £/$ and £/€ exchange rates I have had to increase some prices of some kits as new stocks of components are purchased.
 TS2000X 23cm IF Tap link from G0MGX
Excellent step-by step sequence of installing a PAT150as the ID tap on the 23cm unit of a TS2k by Mark, G0MGX has been linked from the the PAT Instructions table on the PAT page.
LC Meter Kit
The LC Meter kit will be discontinued when the current stock of PCB's is exhausted.  Programmed PIC's will continue to be available for a period for those who wish to construct the circuit themselves.
 PAT50 and 70 from SDR-Kits
SDR kits are now stocking both kit and assembled models  of the PAT70MHz and PAT50MHz, along with the two main varieties of installation kit.  These are available in the UK (and in Japan through ICAS) alongside their SDRPlay (RSP1) package, which will provide an excellent solution for rigs with those IF's.  See http://www.sdr-kits.net/Webshop/index.php?osCsid=6c183mnfqct2dmi5mendf1vu73
New Products
E-Field Probe Active Antenna
Designed as the build project for the RSGB Convention 2016 SMD workshops, this is now available a product from hupRF.  Full details on the E-Field Probe page, and prices on the Orders page.  Already available from stock.
DG8-4 and DG8-6 Masthead Pre-amps
Pre-amp NF is not the significant issue on these bands, due to external noise levels, but the ability to eliminate long feeder losses, and to have good out-of-band rejection of strong signals is valuable.  On both the 4m and 6m versions the NF is measuring better than 1.5dB across the band.  The 4m version has very tight filtering, to reduce the effects of strong out of band signals during Sp-E openings.  Typical max gain of the 4m version is 12dB, due to this filtering.  On 6m the filtering is more relaxed since the entire 50 to 54MHz range needs to be covered – max gain here is around 14dB.
4m and 6m assembly kit versions are now available from stock.
TMP Cables
I now carry a small quantity of coax cable pre-terminated in Taiko Denki TMP plugs.  These cables are 30cm long RG174, with a  single plug and a free end.  This plug is commonly used inside many rigs from the main three manufacturers, (and others – Elecraft, TenTec) both for internal interconnects and for test and alignment points.  Some radio's have a suitable test point for picking up the signal for the PAT board – see the list on the PAT page.
Bias Tee / DC Injector for VHF and UHF
A high RF power handling Bias Tee is now available to match the DG8 masthead preamp capabilities.  A second version now includes PTT switching of the DC supply, avoiding the need for external switching.  A small number of upgrade kits are available for those who wish to modify their DCI-V to the switched version – contact  sales@hupRF.com for information.
DA1-8 Upgrade kit
– when you run out of outputs on your DA1-4HL – now you can upgrade it to the 8 way version!