LC Meter
Full Kit – Functionally as the previous version with a few cosmetic changes:
battery contained within PCB area
connector for external DC power, power cord included
redesigned PCB, with ICSP components removed – simplifies building
| | |
| --- | --- |
| | |
| Completed LC Meter V3 | This is what the inside looks like! |
Make sure that your printer is set to 100%, and that 'shrink to fit' is turned OFF before printing this file!
Read the Radcom review article about the kit. The reviewed product was the Version 2 kit – functionality is the same, but there are cosmetic and construction differences in V3
Note: Since the review was published, the PCB has been updated to improve the pad size, the manual has been updated to reflect the recommendations made, and the Full Kit now has a CNC cut front panel.
The claimed range is 0.1pF to >100nF, and 0 to >10mH.    Accuracy is claimed as +/- 1% of the reading, +/-0.1pF or +/- 10nH
It certainly performs well against other bridges that I have, and is considerably better at low inductance vaues than some other devices currently on the market in the UK.  Kits include PCB, programmed PIC, and all hardware and components – please see the Orders & Prices page.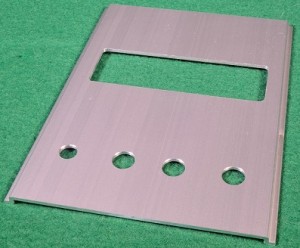 CNC machined panel
All Full LC Meter Full Kits now include a CNC  cut front panel
No more trying to cut out a rectangular hole for the display – that's now all taken care of! The slide-in front panel is now accurately machine cut with all the apertures. You do still need to drill the power and switch holes in the end plate – but at least they're round!
Test Jig for wired and SMD components
As an alternative to the SMD Measurement Tweezers, which can sometimes give misleading results on low value inductors, I have introduced a PCB test jig. The jig slips onto the terminals of the meter as shown below, and will accept wired components of 2.5, 5 and 7.5mm spacing, as well as 1206, 0805 and 0603 SMD's.
| | |
| --- | --- |
| | |
| Jig shown on LC Meter terminals | Component locations on the jig |